For those of you not in the know, we just celebrated the tenth anniversary of the final episode of the best show ever, Friends.
Crap. Now I want a milkshake.
Anywho, I am a HUGE fan of this show. So much so that I still use quotes from the dialogue on a regular basis. (Could I BE any cooler?)  So when my newsfeed started lighting up with Friends articles right around the anniversary date, I clicked on and read them ALL. My favorite? A blog by a writer named Tsh, called "The One Where I Love Friends." It's hilarious. And I loved it so much I went in search of Friends gifs that I could relate to my own life. Here's what I came up with.
Me when I get question right on Final Jeopardy:
Me when I'm on a diet:
Me when the cats start yowling for food at 5 o'clock in the morning:
Me when Brian does the laundry without being asked:
Me when that thing happened on The Game of Thrones and I totally wasn't expecting it:
Me when I'm reading people's Facebook status updates:
Me with every single baby I encounter:
Me with my iPhone when Brian catches me Twitter stalking Zachary Levi:
Me in line at the grocery store when a cool jam starts playing:
Me at my Werq class:
Me with a particularly irritating customer:
Me when I read that Donnie Wahlberg is engaged to She-Who-Shall-Not-Be-Named: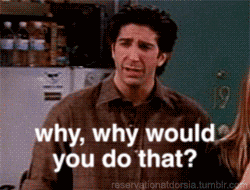 Me reading Dune:
Me when I'm right and you're wrong: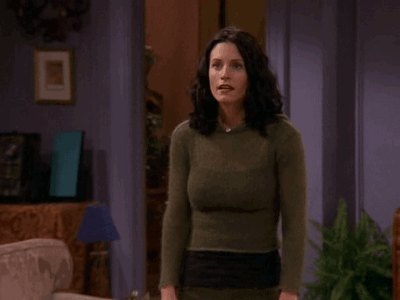 Me constantly doing jazz hands for no apparent reason:
And finally….me every single time I watch the Friends series finale:
Ok, that was so much fun. Thank you, internet, for having so many wonderful gifs to choose from. Now…I'm gonna go watch Friends all day.