There comes a time in every mother's life when the time finally comes to let go of all the baby things. Those things that you shopped for and coveted; the pretty baby patterns and fabrics, the equipment you knew you'd need to have for your little peanut. The swings and playpens and carriers and bottle steamers.  The tiny shoes and baby rattles and feetie pajamas that can never be worn again.
Usually, when it comes to purging our tiny home of things we no longer need, I'm a boss. Haven't worn it in three months? Donate. Has more dust on it than a dust bunny? Donate. Holey underwear, mismatched socks, shirt that hasn't fit since college? Toss, toss, toss.

But this? Boxing up to donate or sell baby stuff? Quite frankly, friends, it sucks.
Let me give you a for instance. When we brought our little superhero home, I knew it would become important for me to carry him, especially since I work from home. I shopped baby carriers online till my fingers bled, and the one I coveted the most? A Tula, in a print that was so nerdy, it was delicious. I spent nights looking at the glossy pictures online, whispering sweet nothings to its image until I could finally convince my husband that it was worth it to spend $150 on something we could have gotten for much cheaper elsewhere.
But it had to be that Tula. That perfect, nerdy, comic-booky Tula. It was that one, or nothing. I wanted it. I needed it. I had to have it. My precious.
And finally, I got that which I had longed for. It was perfect. I loaded my little squish into his carrier and we would while away the mornings, folding laundry, answering phone calls, drinking coffee, and snuggling. It. Was. Perfection. It was great for shopping, it was great for calming him down before naptime, it was great for outdoor excursions….
It was so great.
As time has passed, The Tula (as it is known in our house) was brought out less and less. Occasional naps, infrequent trips through Target, once or twice to get through a particularly busy morning. But his desire to be held close eventually became replaced with his innate need to be in constant motion. Running. Playing. Exploring. As it should be.
And so, the time has come. Today is the day that I must part with my Tula, and all the snuggly memories that go along with it. It makes sense to part ways with it now—it's been sitting on a shelf in his nursery for about 4 months. Logically I realize that trying to get him to go up in the carrier is kinda like trying to put an octopus into a bathing suit—not easy, super-frustrating, and likely to cause black eyes (mine, not his.)
Resigned, I take it down from its place of reverence, run my finger along the fabric, and tell myself it's time for another Mommy to feel that same satisfaction of carrying her baby close to her heart. Time to share the wealth, to pass it down to a new little one, to move on. I lift The Tula to my nose, in a moment of weakness, hoping to catch a lingering scent of newborn there in the folds of fabric…and the realization hits me. My baby isn't such a baby anymore.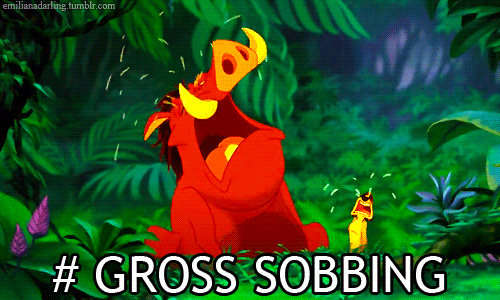 Screw it. Who needs extra space, anyway?