It all started with an innocent little bratwurst.
Half an hour after I made lunch from that innocent little bratwurst, it decided it needed to make a reappearance. And let's just say, Mr. Brat had plans for a grand, if somewhat messy, entrance.
For those who need even further explanation of where I'm going with this, let me just be frank.
(WOW. Best pun ever. Moving on.)
Yesterday, I suffered from what can only be described as the Food Poisoning That Broke My Face And My Spirit.
It's bad enough that I spent at least 20 minutes on my knees praying to the porcelain god. But, towards the end of the projectile vomiting, I could feel all the little blood vessels in my face beginning to pop from the strain. And I knew, as my shoes came out of my mouth to join the party, that whatever face I saw in the mirror later was NOT going to be a pretty one.
This is what my face looked like about an hour after the incident took place:
My father said, and I quote, "You look like you just tried to take on Rocky in the ring. And kiddo, you lost."
You can only imagine how scared I was to look in the mirror this morning. Paired with the bruises and swelling was a night of little-to-no sleep, since I kept having nightmares about children running away from me in terror. So, when I woke up to this:
I was slightly relieved. I mean, from a distance, it could almost look like sunburn, right? I whipped out my bag o' cosmetics and started praying for a miracle. I considered trolling our small collection of tools for a spackling implement, but figured that might only aggravate my already-injured face. So…I patted and swiped and dotted and sponged on as much foundation and concealer as my skin could handle, added some eye liner and mascara, and called it a day. And here's the finished result:
Better. Much better. Unless you get up close and start connecting the dots. So, in my desperation to cover my bruised face, I decided to make some drastic changes to my wardrobe of the day. I started digging through my drawers, trying to think of costume ideas to minimize the redness around my eyes. My first idea….Lady Justice.
But I didn't figure my boss would appreciate the additional hardware required to pull off this look, even if the sword represents power and swift justice. So, I turned to another favorite s-hero.
But if I'm honest with myself, I do not have Michelle Pfiefer's piercing blue eyes, or Halle Berry's luscious lips. That makes pulling off a Cat Woman mask a little less appealing. So, I thought to myself, why not just celebrate Mardi Gras a bit early this year?
It was a solid option. Until a customer came in and flashed me for beads. That was the end of the line for the Mardi Gras mask.
So, I dug around in my summer beach bag and came up with the best solution all around. Just don't hit me for singing "Sunglasses At Night" all day long.
Thank you, Corey Hart, for the inspiration.
Do I look a little less freaky and a little more deaky? (Fingers crossed that you'll say yes. And also, that you'll get my weird lingo.)
I'm linking up with Yeah Write #46 today.
Why? Because I'm fishing for comments that will
hopefully involve readers telling me that I don't 
look like Frankenstein's monster, even though
I really do. What? I can't help it.
I need a major ego boost today.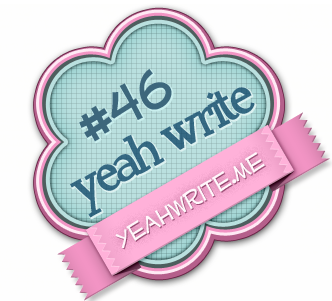 Stop by and read all the other awesome blogs!
(They're all linking up because they're talented writers,
not because they're fishing for sympathy. Probably.)


PS: Oh, and did I mention the subconjunctival hemorrhage in my right eye?
What? Too much? Are you totally never going to read my blog again? Dammit. *face palm* OW!