It's been awhile since I updated everyone, so here is the latest in the series of weight loss video blogs I'm calling "ARRRGH! An Abby Gabs Video Blog." Believe me, it will all make sense eventually. Enjoy.
Can't see the blog? Point your browser here —-> 
http://youtu.be/1duYx422N0I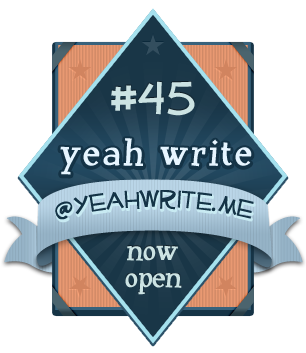 I'm linking up again with Yeah Write. From what I understand, it's a little untraditional to submit a video blog for these linky parties. Oh well, I'm nothing if not a rebel. Make sure you stop by later in the week to vote for your 3 favorite blogs that are posted! (I won't judge you if you don't pick Abby Gabs. Much.)
**EDIT** Turns out, the song I had in my head had nothing to do with being frustrated. In fact, Offspring was singing about keeping things separated. What can I say? I think my lyrics are better.