Every year, when the turkey's gone, our bellies full, and the dishes done, I start to get that excited, fluttery feeling in my heart. I crave the smells of a Douglas fir, cookies fresh from the oven, wintery air that's frosty on my nose. My fingers itch to wrap presents, hang ornaments, and write cheerful holiday cards. I start my mornings with flavored coffees–pumpkin and cinnamon and peppermint. Bing Crosby, Elvis, and Harry Connick, Jr. serenade me on a daily basis.
It's Christmastime. My favorite time of year.
Every year, as the tree goes up in the stand, and the lights are untangled and wrapped around the boughs, there's a smile in my heart that can't be erased. Each tiny ornament has such significant meaning, it's a celebration as I unwrap each one. "Here's the one from the year we got married!" I exclaim. Or "This is the first one you ever bought for me!" And "Oh, I forgot about this one! Look, Brian! It's the silly kitty with the flowerpot on his head!"
Others hold more emotional memories: the white angel holding a kitten for the spring when Eddie died, the glass ornament with the cancer awareness ribbon bearing the date of Brian's surgery. These baubles bring tears to my eyes each time I see them.
Each ornament is placed on the tree with care. Silver balls and glass crystals are added as the perfect light catchers. The blue bow goes on top, and the snowy white tree skirt below. Now comes my favorite part.
We turn off all the lights in the house, except the tree. We stand back, hand in hand, and just look. Music plays quietly in the background. A cat sniffs at a low-hanging branch, feigns indifference, and curls up beneath it instead. The blue lights are cool, bringing winter to our mild, warm climate. In silence we stand, contemplating. I'm sure Brian is looking at his handiwork, looking for gaps or blank spots, searching with his eyes to find an imperfection he can fix.
My eyes fill with tears as I think about the child we are without again this year. My heart breaks a little more. My arms ache. I wonder if we'll ever have the chance to share all this love with a child of our own.
"What do you think? Should we add one more strand of lights?" my husband's voice rocks me from my reverie. I look at him, bathed in blue light, a smile on his face. My hearts swells, heals, fills.
I know there will be a night sometime soon when I'm at home alone. I'll turn off all the lights, lay beneath the boughs of my Christmas tree, and weep: for the child that wasn't created this year, for the emptiness of my womb, for another Christmas gone by without the laughter of children to fill our home. That will be the night that I allow myself to feel those feelings I stamp down on most every other night of the year.
But tonight? Tonight there is too much joy in this room to dwell on sadness. I sigh, wrap my arms around my husband, and say, "If we add many more lights, they'll be able to see us from the International Space Station."
"Isn't that the goal?" he jokes. And I silently thank the fates that I still have him in my life. My husband, my partner, my best friend…the best present of all.
* * * * * * * * *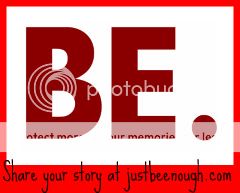 Every MONDAY join us… 
Write, post, link-up, share your story and your voice.
Be part of carrying the weight of confidence and share our mission
to empower, inspire, and remind women, parents and children
that the time has come to celebrate ourselves!