My mother was diagnosed with breast cancer in February of 2003.
My Mommy and me, circa 1985.
I remember sitting on the dusty boxes in the storage room of the bookstore where I worked, cradling the phone between my ear and shoulder. My hands went numb, and my heart stopped beating in my chest.
In those brief moments when my father told me they'd found a lump in my mother's breast, and that she would be having surgery to remove it, I instantly changed.
Before that phone call, I was just a senior in college. Brian and I were busy making plans, thinking about our wedding, dreaming of moving to the sunny South Carolina coast. The most worrisome things in our lives were making rent, studying for exams, and figuring out how to get Kool Aid stains out of the carpet. I was young. Carefree. A child on the cusp of maturity.
It took two words to snap me into adulthood. "Breast Cancer."
I wanted to scream and cry and shake my fist at the world. I wanted to drive home, pack a bag, and race to my mother's side. I wanted to hug my Daddy, and cry with my Mommy. I wanted to comfort my younger brother, and I wanted him to comfort me. I wanted my family.
The last family portrait taken before I got married.
But I couldn't. I knew, as I placed the phone back in it's cradle, that I had responsibilities in my own life that I had to deal with first, before I could have all that I needed in that one moment.
So instead, I finished out my shift at the bookstore. Then I went to class. I made arrangements to take a test early that I knew I'd miss when I went home for my Mom's surgery. I called around to co-workers and got my next few shifts covered. I phoned the editor at the newspaper I was interning for and let him know I'd be out of town for a week, and when he asked me to finish the story I'd been working on, I did so and forwarded it to his inbox. I deposited my paycheck so Brian would have funds available to pay the rent while I was gone.
That night, I collapsed into Brian's arms. I cried for my mother, and the pain I knew she would endure. I cried for the unknown, the uncertainty that comes with chemo and radiation. I cried for my father, knowing he'd have to be strong enough to carry this burden without shedding tears. And I cried for the girl I was, knowing in some way that I was leaving her behind.
Cancer is life altering. It is terrifying, and sobering, and invasive. It makes decisions for you that take your life on an unexpected, unplanned course.
And for a 21-year-old college kid, it launched her into adulthood.
♥My Mom. My Friend. And Breast Cancer Survivor.♥
I'm proud to say that my Mom beat Cancer, and has been healthy and cancer-free since 2003. She may have lost her hair during chemo, and she may have suffered the effects of radiation, but she's stronger than even she knows. Love you, Mom.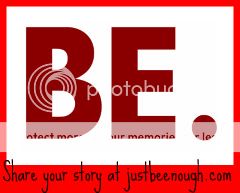 Every MONDAY join us…
Write, post, link-up, share your story and your voice.
Be part of carrying the weight of confidence, empowerment and share our mission
to empower, inspire, and remind women, parents and children
that the time has come to celebrate ourselves!


♥     ♥     ♥     ♥     ♥     ♥     ♥     ♥     ♥     ♥     ♥     ♥     ♥     ♥     ♥     ♥     ♥     ♥     ♥
October is Breast Cancer Awareness Month. In that spirit, please note the new addition to Abby Gabs on the top of the left column! Every time you click the Breast Cancer Site button, their sponsors make donations to help pay for mammograms for women who can't afford them. Let's beat Breast Cancer, one click at a time!