By eight o'clock last night, I was absolutely exhausted. I could barely hold my eyes open, my knees and hips were aching, and my back felt like I'd been lifting heavy furniture all day. My head was pounding, my mouth felt dry, and every joint in my body was creaking.
No, I did not run a marathon yesterday.
The truth is, I spent my day watching football, cooking dinner, and playing with the family dogs.
So why was I so tired and in so much pain?
Because, after 8 years of carrying all this excess weight, my body is starting to give out on me. Each pound I pack on is sapping another hour of energy I might otherwise have. I'm 30 years old, but I feel like I'm 50.
I'll tell you one thing I know for sure. If I want to stand tall and be enough for myself, I need to lose some of myself first. (As in, some of my belly, and some of my thighs, some of my rumpus….)
Moment of truth: THIS is what I've been eating lately:
FYI: This is NOT what healthy eating looks like.
Oh, wait. That makes me look like a fat girl with a death wish. I do have *some* healthy foods in my stash. Let me fluff it up just a bit.
The only veggies I had to add: 3 overripe tomatoes and some wilty parsley. Epic.
Moment of clarity: THIS is what I want my daily diet to look like:
I don't even know what that green thing is in the upper right-hand corner. Cabbage? Kale? Audrey II?
My body is sending me a clear S.O.S. signal, and has been for some time. And now, I'm ready to do something about it.
Not just for a trimmer waistline, smaller jeans, and a cuter figure. Vanity isn't driving this weight loss bus.
Nope, it's ALL me.
I'm sitting in the driver's seat this time. And I'm doing it for my health.
I want to sleep better, feel better, have more energy. I want to be in a better mood, feel better about myself, accomplish something great.
I want to be a better me. I want to stand tall and proud, carrying my accomplishments on my shoulders rather than the shame and guilt of my weight.
I want to learn what that cabbage-y this is in that picture, and learn to love it.
There's "more than Enough" me to go around. And I'm ready to change that today.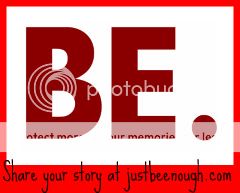 Write, post, link-up, share your story and your voice.  Be part of carrying the weight of confidence, empowerment and share our mission to empower, inspire, and remind women, parents and children that the time has come to celebrate ourselves!
How have YOU lived the "Just Be Enough" feeling this past week? Link up with us!