I write a lot of funny blogs. I make silly faces at the camera, I photoshop myself into funny situations, I tell you humorous anecdotes from my life. I love to laugh, and I laugh a lot. My life is filled with love, and laughter, and family. For that I am blessed a thousand times over.
But the truth is, some days it's really hard for me to think of something funny to say. Some days I can't seem to find anything in my life to shine a light on, for my blog's sake.
I know that, a lot of the times, I throw myself under the funny bus just to get a laugh. I'm often times critical of myself, but in a way that seems humorous. The truth behind the clown mask, though, is that more than one day a week, I wake up feeling "less than." Unworthy. Hidden. Like the words I write are only to be lost in a sea of other voices, and mine is the one drowning while others are clawing their way to the surface to be seen.
Despite my 30 years on this earth, and the love and admiration I have for so many people in my life, I think I still struggle with learning to love myself. There are so many aspects of "ME" that I joke about, make light of…but those aspects often weigh on me like so many stones.
My weight.
Infertility.
Dreams that go unfulfilled year after year.
Insecurities.
Most days I am happy. Most days I can find humor in the world. Most days I love everything about my life.
But…
At least once a day I think about the fact that I don't have a child yet.
At least once a day (usually many more times than that) I chastise myself for being overweight, and for not being diligent enough to do something about it permanently.
At least once a day I wonder how someone else will react to what I say or what I do, and if that will color their opinion of me to a different, unfavorable shade.
At least once a day, I dream of the little house in the country with a fence and a garden and a swing set and a pretty kitchen that I don't have (yet.)
I worry that I'm being selfish. That I'm not enough.
But I am enough.
I cook and clean and make life easier for my husband, who is working towards his nursing degree.
I spend quality time with my family: bonding with my dad over a glass of wine and a bubbling pot of red sauce; helping my mom design the perfect beaded key chain; laughing with my brother over any and everything.
I strive to be a good friend: sending cards, little gifts, photos. Calling to check in often. Dropping off casseroles to those who need the comfort. Loving them, each one, with every inch of my heart. I snuggle and kiss and spoil their babies as if they were my own (even when it breaks my heart, just a little, each time.)
I do my job. I write my blog. I stay busy. I make others lives easier, more enjoyable.
I am enough.
Even on days when I think I'm not.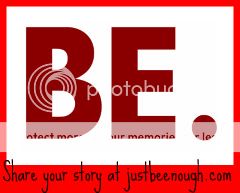 JustBeEnough.com is a site that focuses on telling empowering stories of women, written by women. It's mission is to inspire women to remember to celebrate themselves. This month they are fighting the good fight against cancer. For every 20 link ups this month, Bellflower Books will donate $75 toward a 20-page memory book for a family fighting breast cancer. Feel free to link up and help their worthy cause! And thanks to Jen at The Misadventures of Mrs. B for giving me the idea to participate!